It serves bakers well to be naturally alert early risers. Unlike much stovetop cooking where there's lots of wiggle room for variation, substitution, and off-the-cuff experimentation, baking tends to be a more exact science. Recipes come down to us, revised and devised through precise attention to chemistry: so much leavening to so much fat. Creating a balanced blend of wet and dry ingredients and flavor harmonics:  acid and salt, savory and sweet. In baking it's physically necessary to handle your work with a varying touch: vigorous with gluteny yeast breads and glancing with pastry trifles, where little left-behind butter lumps serve merely to make the finessing pockets of fat that define the delicacy.
Sometimes, when you wake up before the sun has rightly risen and hit the kitchen with a hungry stomach, your wits may stay abed and let you make silly mistakes like half a pound of butter instead of half a cup. (Ahem. Those stick counts always throw me.) And sometimes you, all unawares, encounter baking disasters you never could have seen coming.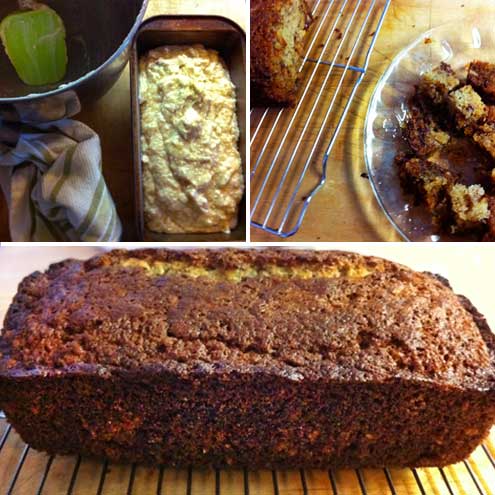 I grew up in a house that loved itself some banana bread. Anytime we had two or three bananas that had ripened too far for acceptable peeled eating or cereal topping, my mom would crank up the mixer to create a fragrant, nutty loaf for several mornings' enjoyment. The first thing I learned to bake, but of course, was chocolate chip cookies. The second was banana bread. It was tried and true, reliable and delectable.
But on one memorable occasion the result of Mom's culinary concoction emerged from the oven, cooled, and was sliced with typical mouth-watering anticipation only to hit our tastebuds with a repulsive– I could only describe it at the time as soapy– flavor, which I ran at once to spit in the sink.
What in tarnation could have gone wrong? We wondered and were unilaterally flummoxed.
Mom had used the traditional banana bread recipe, sleep-walkingly familiar, but somehow the result had turned out perfectly awful. Ten-year-old me took to troubleshooting: were the eggs bad? Nope. Butter? Fresh as could be. What the heck could have made that disgusting flavor? By process of elimination I winnowed suspects down to the sugar canister, only to find it full of salt.
Well. That explained it. A full cup of salt in place of sugar would surely produce a problematic breakfast bread.
To this day The Salt in the Sugar Canister Conundrum remains one of those lingering family mysteries. My mom for her part blamed the messenger, assuming I'd done the deed to be vexatious. Fuming in my room, I cursed my older brothers, surely more prone to such shenanigans than me. Years later I still wonder– could it be that Mom, granted a little flighty post-brain surgery, had herself made the mixup? (my sister's theory) Or was the culprit farther back along the chain, a store who'd stocked its bulk goods bins with the wrong white granular stuff?
We'll never know. But the taste of that single soapy bite lingers on my palate to this day. Every time I make my own banana bread and take that first bite a little part of me lurches in anxious expectation– and then I'm flooded with the flavor of sweet, buttery goodness, melting into contentment.
This morning, I must admit, rather more buttery than intended.
Banana Bread
Yield: 1 loaf
Preheat oven to 350 degrees
Cream together:
1/2 cup butter, softened (that is, ahem, one stick)
1 cup sugar
Add:
2-3 very ripe bananas, mashed
2 eggs, beaten
Sift together and add:
1 1/4 cup all purpose flour
1/2 teaspoon salt
1 teaspoon baking soda
Roughly chop and mix in:
1/2 cup walnuts
Fill a bread pan, center in oven, and bake for about an hour (should be solid, no jiggling). Cool in pan for 10 min, cut around loaf, and tip out to cool on a rack.
Slice and enjoy with a nice cup of tea. :)